About Us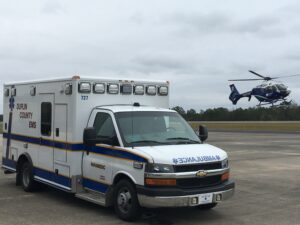 Our Services
Duplin County EMS serves as the primary EMS agency in Duplin County providing eight paramedic ambulances to eight EMS districts that cover the 816 square mile county. Support is provided by one supervisory EMS Officer operating a paramedic-level QRV and two administrative EMS Officers. Our agency is also supported by two volunteer EMS agencies functioning at the Advanced EMT (AEMT) level out of the Chinquapin and Pleasant Grove Volunteer Fire Departments. We also have six volunteer emergency medical responder (EMR) agencies that operate out of Calypso, Faison, Fountaintown, Magnolia, Oak Wolfe, Pink Hill, and Teachey Volunteer Fire Departments.
Administration
Duplin County EMS operates under the medical direction of Dr. Jonathan Kornegay. Dr. Kornegay, having graduated from the Brody School of Medicine at East Carolina University, is board certified in internal medicine and pediatrics. Dr. Kornegay also works as the Hospitalist Director at Vidant-Duplin Hospital in Kenansville. Dr. Kornegay continues the work of his father, Dr. Hervey Kornegay Sr, who is the first medical director for Duplin County EMS and is currently the Medical Director Emeritus.
Brandon McMahon is the Director of EMS. Director McMahon began his EMS career here in Duplin County in 2006 as an EMT and volunteers his time with his local volunteer fire department as a firefighter. After completing his degree in EMS at Coastal Carolina Community College he began working as a Paramedic in 2008. He began teaching EMS continuing education classes with James Sprunt Community College in 2013. Director McMahon still volunteers his time with Calypso Volunteer Fire Department and Calypso BLS.
Mark Casey is the Training Officer for Duplin County EMS. Following the footsteps of his father and grandfather he began as a volunteer firefighter in 2003 with Chinquapin Volunteer Fire & Rescue and began working as an EMT with Duplin County EMS in 2007. After completing his Paramedic program in 2011, he continued to work for Duplin County EMS while also teaching EMS courses at James Sprunt Community College. He would later complete his degree in EMS at Johnston Community College.
A-shift Captain: Dustin Swinson
B-shift Captain: Moose Whitfield
C-shift Captain: Luis Arellano
D-shift Captain: Abby Cannon